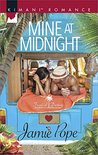 Mine at Midnight by Jamie Pope
My rating: 3 of 5 stars
Read other reviews for a balanced view because if you are a die-hard Kimani fan then this book may be for you.
So Ava dumps her rich fiancé because she found he had a babymomma & three kids, then she hooks up with Derek, child of another baby-momma and rich daddy. Derek like most Harlequin Kimani heroes has 'mama' issues but he was brought up strong and the right way by others. And against the lovely backdrop of the island and them having plenty sex, the couple fall in love.
Compared to the other books in the Tropical Destiny series this isn't the best – Surrender at Sunset is the best. I did struggle to read it because though a lot happens in the book, it's nothing directly to do with the couple's relationship. So there is drama but not drama that affects the romance until the very end.